Bleomycin Lyophilized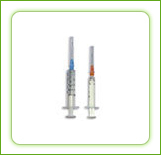 Bleomycin Lyophilized
Price And Quantity
Product Specifications
Product Description
Bleomycin Lyophilized
Bleomycin is one of the cancer chemotherapy drugs, used for the treatment of different types of cancer including testicular cancer, prostate cancer, non Hodgkin's lymphoma, Hodgkin's lymphoma and cancers of the head and neck area. It slows down or stops the growth of cancer cell in your body. The Bleomycin is freely soluble in water and form a clear fluid after being dissolved in water.

Dosage : 15 units

How it is Administered
In the form of drip (infusion) through a fine tube into the vein, usually for 20 to 30 minutes. It may also be given through a central line of which is inserted under the skin into a vein near the collarbone or through a PICC line, which is inserted into a vein in the crook of the arm

By injection into a large muscle (IM), a vein, or rarely under the skin (Subcutaneously)

Injected through a chest drain after drainage of a plural effusion. The fluid builds up between the two layers of the lung, thereby stopping plural effusion from recurring.
Side Effects
Medicine and their side effects may affect individual persons in different ways. The following are some of the side effects that are known to be associated with this medicine. If you notice or experience any of the following side effects please discuss it with your doctor or chemotherapy nurse.
Fever and chills
Skin changes ( Rashes or itchy skin)
Loss of appetite
Tiredness and feeling weak
Mouth sores and ulcers
Taste changes
Ridging of nails
Hair loss
Changes to the lung
Precautions
Must tell your doctor about your medical history and different medication that you take. Discuss your fertility and conception with your doctor before starting the treatment. Avoid pregnancy or becoming father during the course of the treatment, or at least after a month.
Contact Us
C-2/009, Rutu Estate, Patlipada, G. B. Road Thane (West), Thane, Thane, Maharashtra, 400607, India
Phone :+918037401062