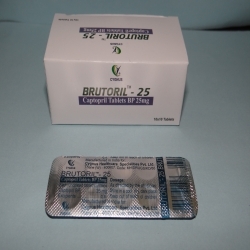 BRUTORIL - 25
Product Code : 95
Product Description
BRUTORIL - 25
Captopril (dividable tablet) 25mg

Composition:
| | |
| --- | --- |
| Captopril BP | 25mg |
| Excipients | q.s |

PHARMACOLOGY :
Captopril is used to treat high blood pressure and heart failure. (a condition where the pumping action of the heart is reduced). It decreases certain chemicals that tighten the blood vessels, so blood flows more smoothly and the heart can pump blood more efficiently. Captopril controls high blood pressure and heart failure but does not cure them. It is also used in some forms of kidney disease (such as diabetic kidney disease), and after a heart attack, to help protect the heart. Continue to take captopril even if you feel well. Do not stop taking captopril without talking to your doctor.


DRUG INTERACTION :
Captopril interacts or other nonsteroidal anti-inflammatory drugs, potassium supplements, angiotensin II receptor blockers ,diuretics ,injectible gold , Lithium . These interactions may lead to decreased effectiveness of the drugs. Interaction of Captopril may be life threatening . Inform your doctor if you are taking any medicine.
PRECAUTION :
Before using this medication, tell your doctor your any medical history, especially of allergic reaction that included swelling of the face/lips/tongue/throat (angioedema), blood filtering procedures (such as LDL apheresis, dialysis), collagen vascular disease (such as lupus, scleroderma), high level of potassium in the blood.

This drug may make you dizzy. Do not drive, use machinery, or do any activity that requires alertness until you are sure you can perform such activities safely. Limit beverages will increase feelings of light-headedness and may not be recommended for you.

You can take captopril tablets before or after meals.

Captopril may cause your skin to become more sensitive to sunlight. Use a sunscreen that protects against UVA light and has a sun protection factor (SPF) of at least 15, especially in strong sunlight .

SIDE EFFECTS:
Captopril may cause side effects. Tell your doctor if any of these symptoms are severe or do not go away:
Dizziness or lightheadedness ,salty or metallic taste, or decreased ability to taste ,cough , sore throat ,fever,mouth sores ,unusual bruising ,fast heartbeat ,excessive tiredness If you experience any of the following symptoms, call your doctor immediately: chest pain ,swelling of the face, eyes, lips, tongue, arms, or legs ,difficulty breathing or swallowing ,fainting ,rash ,urinating more or less than usual, or not at all, fever, chills, body aches, flu symptoms,pale skin, short of breath, trouble concentrating , unusual bleeding (nose, mouth, or rectum)

PREGNANCY :
When pregnancy is detected, discontinue Capoten as soon as possible as It can cause injury and death to the developing fetus.
LACTATION :
Not recommended. Captopril is secreted in breast milk. Therefore it should be avoided by nursing mothers.

DOSAGE:
As directed by the physician

STORAGE :
Store in cool dry and dark place.

Keep all medicines out of reach of children..
PRESENTATION:
BLISTER PACK OF 10 X 10 TABLETS.
Contact Us
C-2/009, RUTU ESTATE, PATLI PADA, G.B. ROAD, Thane, Maharashtra, 400607, India
Phone :+917259528843