Fexofenadine Capsules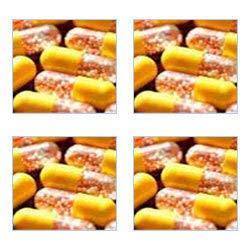 Fexofenadine Capsules
Price And Quantity
Product Specifications
Product Description
Fexofenadine Capsules
Fexofenadine Capsules are prescribed for relieve from allergy symptoms and hay fever including running nose, sneezing, tearing eyes etc. Fexofenadine belongs to antihistamines class of medications. This allergy relief drug functions by blocking the histamine - a substance in the body that causes allergic symptoms. Fexofenadine causes less drowsiness in comparison to other anti-allergy medicines.
| | |
| --- | --- |
| Fexofenadine Strength | Oral (Anti-Allergy) (120 mg / 180 mg) |
| Common Brand Names | Allegra |

How to Use
This anti allergy medicine in available in tablet form & is consumed orally. It is generally prescribed for one or two tablets a day. Prefereably follow the directions of your doctor or pharmacist and do seek assistance from both in case you are not able to understand the prescription. It is necessary to take Fexofenadine Capsules exactly as directed & do not take more or less as it mat cause side effects.

Side Effects
Fexofenadine might cause ceratin side effects that are followed by the mentioned symptoms. Contact your doctor incase to experience any of the following sypmtoms:
| | |
| --- | --- |
| Headache | Dizziness |
| Drowsiness | Back pain |
| Cough | |
Precautions
There is the need to take certain precautions before consuming / taking Fexofenadine allergy relief drugs. Some of these are:
Inform your doctor while being prescribed for this medicine if you are allergic to fexofenadine or any other medications and also discuss regarding all the prescribed and non-prescribed medicines, nutritional supplements, ayurvedic products that you are taking.

Infrom the doctor if you have or have ever had kidney disease, if you are pregnant or plan to become pregnant, or are breast-feeding.

Fexofenadine may make you drowsy so, do not drive or operate any machinery until you know how this medicine affects you.
Over Dose
In case of overdose, call your doctor. The symptoms of overdose may include: dizziness, drowsiness, dry mouth, etc.

Missed Dose
If you have missed a dose, take the missed dose as soon as you remember it. If it is almost time for the next dose, skip the missed dose and continue your regular dosing schedule.

Storage
Store this medicine in tightly closed container and out of reach of children. Store it at room temperature, away from excess heat and moisture. Remember to discard medicine that is outdated.
Contact Us
C-2/009, Rutu Estate, Patlipada, G. B. Road Thane (West), Thane, Thane, Maharashtra, 400607, India
Phone :+918037401062