Gemcitabine Lyophilized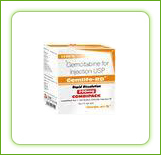 Gemcitabine Lyophilized
Price And Quantity
Product Specifications
Anti-Cancer

As prescribed
Product Description

Gemcitabine is a chemotherapy drug, used for the treatment of various types of cancer like lung cancer, pancreatic, bladder and breast cancer. These anti lung cancer drugs and anti breast cancer drugs act to slow down or stop the growth of cancer cell in the body. Gemcitabine is in a class of drugs known as Pyrimidine analogs.

Dosage :Gemcitabine Lyophilized 200mg, Gemcitabine Lyophilized 1000mg

How it is Administered
The drug may be infused directly into the veins through a fine tube (cannula ), over a short period of time
It may also be given through a central line, which is inserted under the skin into a vein near the collarbone or intra-peritoneal, directly into the peritoneal cavity in the abdomen
Side Effect

Following are its possible side effects. In case you experience any of the side effect listed below, please discuss it with your doctor or chemotherapy nurse.
Lowered resistance to infection
Bruising or bleeding
Anemia
Feeling sick (nausea) and vomiting
Loss of appetite
Temporary effect on liver function
Change in kidney function
Flu-like illness
Fluid retention
Tiredness and feeling weak
Precautions
Tell your doctor about all the medicine you use including prescription & non-prescription drugs and herbal remedies. It is advisable to avoid pregnancy or to become father during and a month after the course of the treatment.