Lekalza Injection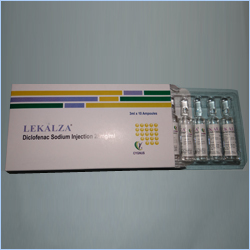 Lekalza Injection
Price And Quantity
Product Specifications
Anti-Cancer

As prescribed
Product Description
Lekalza Injection is indicated for treatment of the signs and symptoms of acute and chromoc rheumatoid arthritis, osteoarthritis and ankylosing spondylities. Painful post-traumaticand post-operative inflammation and swelling. pain following dental surgery. Acute attacks of gout. Painful gynaecological conditions.

Dosage and direction for use :
The recommended doses of the diclofenac injection is 1 ampoule (75 mg) once daily or, if required in severe cases twice daily, injected deep intraglutealy.
Diclofenac injectionfor intramuscular and should not be moxed with other injection solu Lekalza Injection should not be given more than 2 days.
Lekalza Injection are not recommended for use in children.


Contraindications :
Lekalza injections is contraindicated in patient who are hypersensitive to it, and in whom drugs and other NSAIDs precipitate attacks of asthma, urticaria or acute rheumatic. It should be given to patients with pepticuler.

Warning and precautions :
Strict accuracy of diagnosis and close medical surveillance are imprative in patients with symptoms indicative of a gastrointestinal disorder with a history suggestive of gastrointestinal ulceration, with ulcerative colitis or with Crohn's disease and in patients with severe impairment of hepatic function. It peptic ulceration or gastrointestinal bleeding occur in patients receiving the drug, it should be withdrawn.

Caution is necessary in patients with impaired cardiac or renal function, those being treated with diuretics, and those recovering from surgical options since prostaglandins play a major role in the maintenance of the renal blood flow. During the long-term treatment with Diclofenac Sodium, renal and hepatic function should be monitored and regular blood count should be taken as precautionary measures.

Side effects :
Perforation of gastriculcers.
GIT haemorrhage, blood dyscriasias and anaphylaxis (rare)
Others: G.I. disturbances, headache, dizziness. rash, pruritus, peripheral oedema.
G.I.Bleeding: Pepticulcer, abnormalities of liver and kidney function.

Drug Interaction :
Deterioration in renal function has been attributed to the concomitant use of Diclofenac and triamterene or cyclosporin. As with other NSAIDs Diclofenac Sodium is likely to inhibit the activity of the diuretics. Concomitant treatment with potassium diuretics may increase the serum potassium levels. Plasma concentrations of lithium or digoxin are increased when these drugs are given together with Diclofenac Sodium.

Cholestyramine appears to reduce the biovailability of Diclofenac Sodium when the two given together.

Concomitant administration of systemic NSAIDs and / or glucocorticoids may increase the risk of side effects.

Monitoring of patents is required when Diclofenac Sodium is given along with anticoagulants. As with other NSAIDs Diclofenac Sodium in high doses may temporarily inhibit platelet aggregation. Blood levels of menthotrexate may risk and toxicity may increase if Diclofenac Sodium is administration less than 24 hours before or after the treatment with methotrexate.