Men's Health Medicines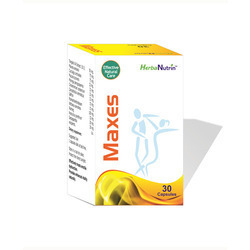 Men's Health Medicines
Product Description
Our Men's Health Medicines like Maxes Capsules are offered for enhancing male libido. This formulation contains various male libido enhancing ingredients such as Tongkat Ali fennel seed powder (used to boost sexual desire).

Natural, Safe & Effective:
Unique formula very well formulated with standardized herbal extracts to develop high quality product which boost intimacy & quality time in couples

It contains tongkat ali, a very well known aphrodisiac herb.

Its effectiveness is enhanced with the help of addition of Ginkgo biloba, Gotu cola, siberian ginseng and Damiana extract, and other natural herbs in to the product

Advantages:
Enhances blood flow

Stimulate bodys natural stamina & physical proficiency.