NOFOGO Tablets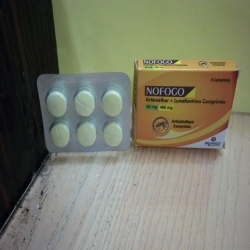 NOFOGO Tablets
Product Specifications
A

Control Virus, Bacteria, Pesticides, Insects
As prescribed

Store in Cool
Product Description
Fully equipped with modern facilities, our company is successfully exporting a wide stock of NOFOGO Tablets. These medicines are extensively usefully in the treatment against malaria. We formulate the entire stock in accordance with industry standards using supreme grade compounds, procured from reputed vendor in market. Our clients can get NOFOGO Tablets from us at highly competitive prices.
Features:
Safe to consume
Balanced pH level
Excellent composition
Tablets / Dry Powder for Suspension


Composition :
Each tablet contains:

Artemether

20 mg

Lumefantrine

120 mg

Artemether

80mg

Lumefantrine

480 mg

Artemether

40mg

Lumefantrine

240 mg
For suspension:
Each 5 ml contains:




Artemether

15 mg

Lumefantrine

90 mg

Atc Classification & Description:
P01BE02 - artemether ; Belongs to the class of artemisinin and derivative antimalarials. The chemical name of artemether is (3R,5aS,6R,8aS,9R,10S,12R,12aR)-decahydro-10-methoxy-3,6,9-trimethyl-3,12-epoxy-12H-pyrano[4,3-j]-1,2benzodioxepine. Artemether is a white, crystalline powder that is freely soluble in acetone, soluble in methanol and ethanol, and practically insoluble in water. It has the empirical formula C16H26O5 with a molecular weight of 298.4, and the following structural formula:


The chemical name of lumefantrine is ()-2-dibutylamino-1-[2,7-dichloro-9-(4-chlorobenzylidene)-9Hfluorene-4-yl]ethanol. Lumefantrine is a yellow, crystalline powder that is freely soluble in N,Ndimethylformamide, chloroform, and ethyl acetate; soluble in dichloromethane; slightly soluble in ethanol and methanol; and insoluble in water. It has the empirical formula C30H32Cl3NO with a molecular weight of 528.9, and the following structural formula:


Mechanism of Action:
Artemether is a potent and rapidly acting blood schizontocide, which is highly efficacious in treating chloroquine-resistant falciparum malaria, and complicated falciparum malaria including cerebral malaria. Its quick onset of effect and high efficacy in bringing down the parasite load are the properties which make this drug a suitable therapeutic option against falciparum infection.
Metabolism: Rapidly hydrolysed to the active metabolite dihydroartemisinin.
Excretion: Elimination half-life: about 4-11 hr after IM or oral admin.

Therapeutic Indications:
Artemether / Lumefantrine is indicated for the treatment of uncomplicated P. falciparum malaria including multi-drug resistant strains of P.falciparum. it is also effective against the blood stage of P.vivax but not active against hypnozoites. Artemether / Lumefantrine must be used for the malaria infections acquired in areas where the parasites may be resistant to other anti-malarial drugs

Dosage and administration:
Patients with acute malaria are frequently averse to food. The dose may be encouraged to resume normal eating as soon as food can be tolerated since this improves absorption of Artemether and Lumefantrine. In the event of vomiting within 1 hour of administration a repeat dose should be taken.
Acute uncomplicated falciparum malaria
Adult: 80 mg daily, to be taken with lumefantrine 480 mg daily. Doses to be taken at diagnosis and repeated after 8, 24, 36, 48 and 60 hr. Total doses: 6.
Child:Daily doses based on body wt: 5-14 kg: 20 mg with lumefantrine 120 mg; 15-24 kg: 40 mg with lumefantrine 240 mg; 25-34 kg: 60 mg with lumefantrine 360 mg and >34 kg: 80 mg with lumefantrine 480 mg. Doses to be taken at diagnosis and repeated after 8, 24, 36, 48 and 60 hr. Total doses: 6.
For 20mg/120mg Tablets:
Child: 5kg to 14kg: 1 B.I.D for 3 day

For 80mg/480mg Tablets:
Adults & over 35kg: 1 B.I.D for 3 days

For 40mg/240mg Tablets:
Adults & over 35kg: 1 B.I.D for 3 days
25kg to 34kg: 1 1/2 B.I.D for 3 days
15kg to 24kg: 1 B.I.D for 3 days




For suspension:
Reconstitution:
After opening the bottle, drinking water is to be added and carefully brought to the mark point indicating 100 ml level. After adding the water, the mixture has to be vigorously shaken until all powder has disappeared from the bottom and a yellow suspension is being formed. The composition of the powder is such that this process will take only a few seconds. It will be necessary to readjust the volume to the 100 ml mark. This suspension is stable for at least 14 days. Although the suspension powder does not precipitate to the bottom, it is advisable to shake the bottle before use so there is a homogeneous distribution of the active ingredients. A subunit of 5 ml of the 100 ml made suspension contains 15 mg artemether and 90 mg lumefantrine.
Dosage:
| | | | | | | |
| --- | --- | --- | --- | --- | --- | --- |
| Once Daily for Three Day | | | | | | |
| Body Weight (Kg) | 5 - 7.4 | 7.5 - 9.9 | 10 - 12.4 | 12.5 - 14.9 | 15 - 17.4 | 17.5 - 19.9 |
| Dosage | 7 ml | 10 ml | 14 ml | 17 ml | 20 ml | 24 ml |

Adverse Drug Reactions:
Mild GI disturbance, dizziness, tinnitus, reduction in reticulocyte and leucocyte counts, nausea, vomiting, abdominal pain, bradycardia, 1st-degree heart block, transient increase in serum transaminases.

Contra-Indication:
Artemether / Lumefantrine is contra-indicated to those patients which have a history of hypersensitivity to Artemether / Lumefantrine.
Precaution :
Pregnancy:
Pregnancy and lactation. Avoid concomitant use of drugs known to prolong QT interval or monitor such patients.
Lactation: Artemether / Lumefantrine excretes into breast milk. It should not be taken by breast-feeding women.

Drug Interactions :
Artemether causes QT prolongation in some patients. Thus concomitant use of erythromycin, procainamide, quinidine, disopyramide, amiodarone, bretylium, bepridil, sotalol, probucol, tricyclic antidepressants, phenothiazines may be avoided.

Instructions :
Keep out of reach of children.

Avoid exposure to heat, light and humidity.

Store in a cool place (below 25C).

Improper storage may deteriorate the medicine.

Presentation:
Tablets: pack of 6's tablets
Powder for Suspension: 100 ml bottle