Oxaliplatin Injection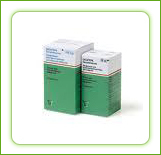 Oxaliplatin Injection
Price And Quantity
Product Specifications
As prescribed

At room temperature
Product Description
Oxaliplatin is a platinum based chemotherapy drugs, mainly used for the treatment of bowel cancer (colorectal cancers). Also known as Eloxatin, it is used for treatment of other cancers too.

Dosage :Oxaliplatin 50mg/25ml, Oxaliplatin 100mg/50ml

How it is Administered
The platinum based cancer drugs is directly injected in the veins in form of drip (infusion) through a fine needle, cannula. It can also be given through a central line (a tube inserted into a vein in the chest) or a PICC line (a tube inserted into the crook of your arm).

Side Effect
The possible side effects of the drug are given below. However, it is always advised to immediately contact your doctor in case any of the symptoms persist.
Numbness or tingling in hands or feet
Lowered resistance to infection
Bruising or bleeding
Anaemia (low number of red blood cells)
Nausea and vomiting
Diarrhoea
Tiredness and feeling weak
Precautions
Oxaliplatin may cause pain at the point of injections
Tell your doctor about any other medications you take including prescription, over-the-counter, vitamins and herbal remedies
It is advisable to discuss any plans of child birth with your doctor
Contact Us
C-2/009, Rutu Estate, Patlipada, G. B. Road Thane (West), Thane, Thane, Maharashtra, 400607, India
Phone :+918037401062