Simvastatin Tablets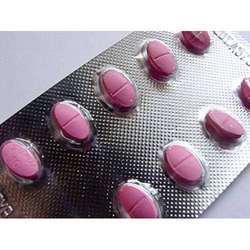 Simvastatin Tablets
Price And Quantity
Product Specifications
Anti-Cancer

As prescribed
Product Description
Simvastatin belongs to a class of medication referred to as HMG-CoA reductase inhibitors. When used in conjunction with changes in lifestyle in terms of diet, weight-loss, exercise, etc, it reduces the amount of cholesterol and other fatty substances in blood. Simvastatin Tablets work by slowing cholestrol production in the body.
How to Use
Simvastatin is available in tablet form for intake through mouth and usually taken once or thrice a day at around the same time. Follow the exact direction of of your prescription or label and also consult your doctor or pharmacist for explanation about details. Take simvastatin exactly as directed by doctor and in quantities as prescribed by the doctor. Your doctor may begin Simvastatin on a low dosage and gradually increase it, to no more than once every 4 weeks. Persist with the medication even if there is relief and do not stop it without consulting with your doctor

Side Effects


Simvastatin may cause certain side effects. Inform your doctor if any of these symptoms are severe and do not go away:
| | |
| --- | --- |
| Constipation | Muscle Pain, Tenderness, or Weakness |
| Headache | Fever |
| Swelling | flu-like symptoms |
| Loss of appetite | Nausea |
Precautions

Before taking simvastatin,
Inform doctor & pharmacist about any allergies to Simvastatin or other medications.
Inform doctor and pharmacist about any intake - existing or planned - of medications, nutritional supplements, vitamins, as well as herbal products.
Consult your doctor about any history of liver disease, kidney disease, or other medical conditions.
Inform doctor about your drinking habits.
Inform your doctor about any pregnancy - planned or unplanned. If you do become pregnant while on Simvastatin, stop taking Simvastatin and inform doctor immediately.
Do not breast-feed infants while on this medication.
In case of any planned surgery, including that of dental surgery, inform doctor or the dentist about intake of Simvastatin.
Over Dose


If case of an overdose, or incapacitation of the victim, breathing problems, etc., inform doctor or call local emergency services.

Missed Dose

Take missed dose on remebering it. If the nest dosage is due, shortly, then skip the kissed dose and take the next. Compensating for missed doses by double soage is not safe.